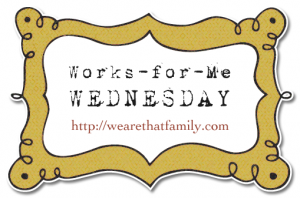 This WFMW was originally posted last May, but due to some desperate queries regarding it lately, I feel it warrants a re-post. This method really does grow 'em as high as a pre-schooler's eye! Every time. Read on, soon to be master gardener..



When we moved into our house about 4 years ago we were most taken with the curb appeal of the front flower bed. It was October and it was just stuffed with beautiful, brightly coloured amazingly tall and lush impatiens.

We decided that despite our somewhat dodgy past adventures in gardening, this was something that we wanted to keep happening in our front yard, so we consulted with The Lady of the House (ex owner)who is an avid gardener and she talked us through the process.

To our great wonder and amazement by following her instructions to the T, the flowers sprang up just as vibrantly for us as they had for her and the front bed continues to be somewhat of a legend in these parts, because nobody has ever seen impatiens grow to the size that they do. It has become a family tradition to devote an afternoon each May to plant our Impatiens together (and this year, the irony of the flowers name was strong as my kids were anxious to get to the pool for the first time this season).

We have kept our mad scientist methods a closely guarded secret up until now but in a rare flush of generosity and the desire to make the world a more beautiful place, I decided to share.

Ok so this is what you do.
1. First you buy Impatiens which are designed to grow bigger then the average type. The type we buy are the Blitz variety. The darker colours seem to do better then the lighter ones but we always throw some white into the mix because it makes the other colours pop.


2.Procure the magic serum from your local nursery. If they don't have it, tell them to order some.



3. We mix it up according to the instructions in old milk jugs and pour an inch or two in these old cake pans. Be prepared to devote the rest of their lives solely to this cause.




4. We take the plants out of the flats and let them soak in this solution for about 10 minutes while we dig the holes.
5. We pour a little bit of the solution into each hole before we place the plant in there.


Pull the roots apart a little before you put them in their holes














6. Pat down the soil. Stand back and watch them grow. Small children and animals may get lost in the foilage.

7. We give them a little shot of Miracle Grow about once or twice a month for maintenance. We water them daily (unless it rains or is exceptionally humid).

They grow from just after the last frost in May til well into October. Our kids have fun stomping down the huge stalks on Hallowe-en night when they start to look tragic.



Hermione, Malfoy and Potter pose in front of their herbology project


Go to, and plant!

Tweet this!